New publication from Dietrich et al. in eLife: Eco-evolutionary dynamics modulate plant responses to global change depending on plant diversity and species identity
Global change has dramatic impacts on grassland diversity. However, little is known about how fast species can adapt to diversity loss and how this affects their responses to global change.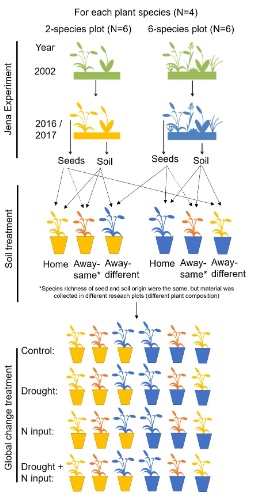 In this study, we performed a common garden experiment using plant and soil material from the Dominance Experiment. The aim was to test, whether plant history, soil history, and soil treatment (home/away) influence the response of the plants to global change. Therefore, plants were either non-treated or exposed to drought, increased nitrogen input, or a combination of both, drought and nitrogen input. Results of the study show that offspring of plants selected at low and high plant diversity differently respond to global change and that plant-soil interactions play a significant role in this process. We conclude that plant diversity modulates plant-soil interactions and growth strategies of plants, which feedback on the eco-evolutionary pathways of the plants and thus their responses to global change. Our results indicate that not only external influences (i.e., global change drivers), but related changes within the community (i.e. changes in eco-evolutionary dynamics) could promote a further loss of species and an acceleration of global change effects. Therefore, our study is a call to investigate this phenomenon in more detail in order to be able to assess and prevent possible risks of such a feedback loop at an early stage.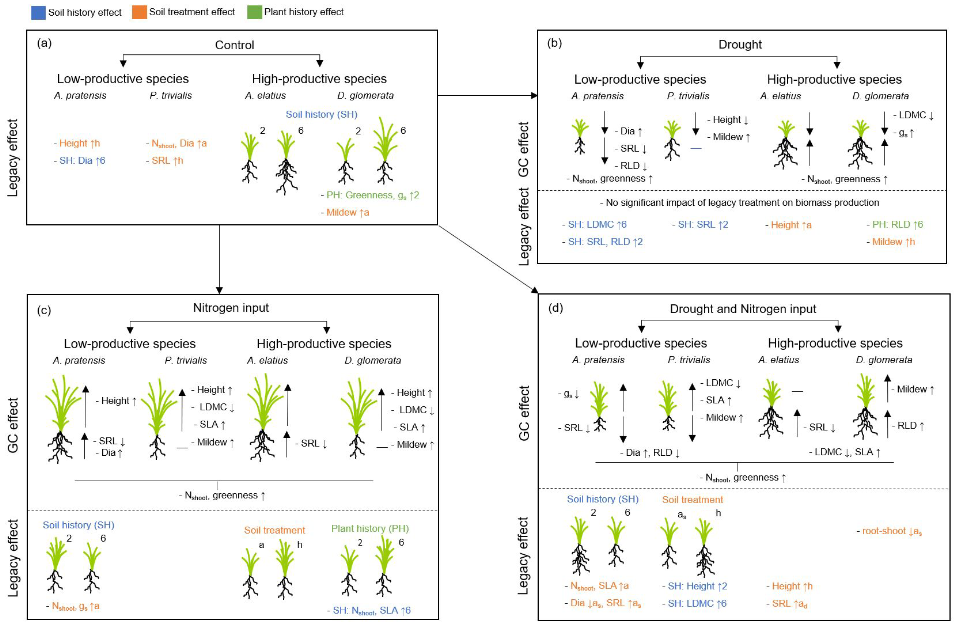 Reference:
Dietrich, P., Schumacher, J., Eisenhauer, N., & Roscher, C. (2022). Eco-evolutionary dynamics modulate plant responses to global change depending on plant diversity and species identity. ELife, 11, e74054. https://doi.org/10.7554/eLife.74054