New publication from Eisenhauer et al. in Science China Life Sciences: The shape that matters: how important is biodiversity for ecosystem functioning?
This article summarized the history and current biodiversity-ecosystem functioning research. It shows that lately study by Bongers et al. 2021 contributes a significant aspect to this field of research. It has important applied implications by indicating that to maximize productivity and its stability in the long term, it is crucial to move away from tree monoculture plantations to plant communities with high functional diversity. Particularly, enhancing the diversity of hydraulic traits may be critical to foster resilient forests with high levels of ecosystem functioning.
This study opens some exciting research avenues and identifies critical gaps. In light of the importance of belowground processes and intimate plant-soil interactions, future work should consider both aboveground and root traits as well as above-belowground trait syndromes, because root traits play a critical role in soil nutrient and water use.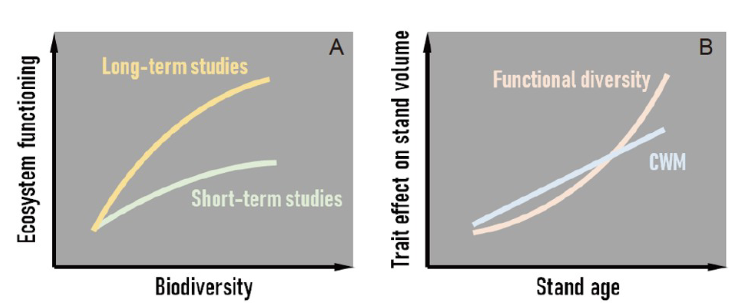 Reference:
Eisenhauer, N. The shape that matters: how important is biodiversity for ecosystem functioning?. Sci. China Life Sci. (2021). https://doi.org/10.1007/s11427-021-2052-5